S.P.E. Società per l'Elettronica S.r.l. develops, manufactures and services measurement and communications equipment, all bearing the stamp of high performance and reliability.
S.P.E. operates in the telecommunications markets and has been designing and supplying a variety of innovative solutions to the main Italian Telecom Company for over 30 years.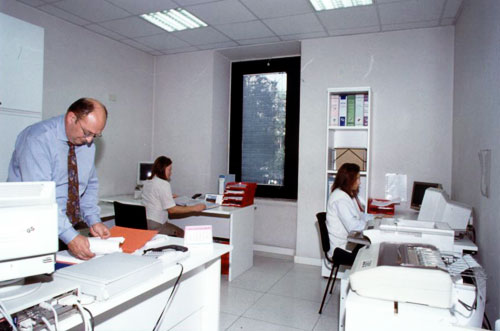 Quality control office
The products and services of S.P.E. cover three main fields of application:
Measuring instruments and systems:
Analog, digital, and wireless measuring instruments and systems;
Measurement networks (pdh/sdh);
Traffic control systems.
End User Devices:
Automatic routers (autodialers);
Protective ground remote measurement systems.
Custom systems:
Switching exchange systems;
End-user custom devices;
Receiving/transmitting systems.
Testing laboratoryS.P.E. leverages on its expertise to offer a variety of solutions designed to meet the needs of today's carriers.
At S.P.E., customer requirements are the primary driving force throughout the products life cycle, including design, manufacturing, deployment, and service.
The S.P.E.'s vision is to offer tight integration between product and services aimed to offer to its customers dependable and cost effective solutions.
S.P.E. has established strategic alliances with leading engineering companies for the development of new VLSI components and dedicated software modules.
S.P.E. also participates in S.P.E. Microsystems Inc. - California (USA), a new company developing advanced custom chips for telecommunication applications. S.P.E. and its manufacturing units are certified according to ISO 9001:2000 quality standards.